As we enter November and begin to think about the upcoming Christmas season, I can't help but be in a positive and uplifting frame of mind. I know that I'm overlooking Thanksgiving in this process, but as a kid, I used to begin filling out my Christmas lists for Santa Clause in July, so I'm getting better. Christmas is the Season of Giving, and although I can't give anything to our current Buckeye players to help them on the field, I have written out a few hypothetical gifts from former players. These gifts are traits/talents possessed by some former OSU greats, and directed to current Buckeyes on the roster. Keep in mind that these gifts are not meant to demean or anger any of these players, simply things that could take them from their current level of play to a much more advanced level.
To: Christian Bryant
From: Mike Sensibaugh
Gift: Timing and Hands
An All-American Safety, Mike Sensibaugh ('68-'70) played for three seasons at OSU and managed to accumulate 22 interceptions (5, 9, 8). This total is still a Buckeye record, and his 9 INTs in 1969 are tied for the most INTs in one season for the scarlet and gray. Sensibaugh's uncanny ability to intercept passes had a lot to do with good hands, but even more to do with his excellent timing. His ability to bait a QB into throwing a ball, breaking once the ball is released, and then jumping in front of the receiver for the pick may not be quite as good, but are certainly reminiscent of Baltimore Raven's Safety, Ed Reed.
Bryant, on the other hand, has all of the playmaking abilities that Sensibaugh was blessed with, but just has not gotten the opportunity to showcase them. He was an All-Ohio defender in high school, as well as the Offensive Player of the Year in his conference, so he is clearly a top-level athlete. He is never short on confidence, and deservedly so, as he is constantly breaking up passes and making big hits on the field. Unfortunately, he hasn't quite broken the threshold from solid Ohio State DB into All-Conference Player, but he has been inches away. On a quick pass against Michigan State, Bryant did everything right…almost. He kept his eyes on the receiver, read the route, saw Kirk Cousins making the throw to open space, jumped the route perfectly, and then…dropped a would-be interception, and almost undoubtedly a touchdown return. Similarly, on a dump pass last week to Wisconsin running back, Montee Ball, Bryant was a hair away from snagging an interception and sprinting the other way for six points. Again, he was a tad too late, and Ball was able to not only make the catch, but was in the endzone after a couple of nice moves. Christian Bryant is one of my favorite players to watch on this year's team, because he is young, talented, and loves to let the opponent know about it. With just a little help from Mike Sensibaugh, Bryant WILL be a force at OSU this year and hopefully for the next two to follow.
—————————————————
To: JB Shugarts
From: Orlando Pace
Gift: Ears/Eyes/Discipline
I don't think that I need to go into too much detail to remind you of the tremendous blocking abilities of perhaps the greatest offensive lineman in college football history, Orlando Pace. However, on top of his God-given ability for clearing paths for running backs that I could easily get my Honda Accord through and leaving defensive linemen-shaped holes in the turf, Pace was also fantastic at another aspect of his position. In college at OSU, and as an All-Pro Tackle for the Rams for a decade, Pace was RARELY ever called for a false start penalty. When asked about it, he simply shrugged it off and said, "I just watch the ball. When the ball is snapped, that's when I go into action…I'm not moving until that ball is snapped." Seems easy enough, right? Well, that is the one thing holding JB Shugarts back from being a great OSU lineman.
JB Shugarts is a 6'7″, 300+ lbs monster of a lineman, but unfortunately for him, his inability to see the ball being snapped, hear the cadence, and/or have the discipline to keep himself planted in one spot are creating a negative legacy. For crying out loud, there are drinking games out there based on his false starts, and every once in a while it seems that the frequency of his premature movement rivals that of the "But um" drinking game in How I Met Your Mother (see below). This is also not something that just began appearing this year, but something that has been consistent in his playing career. In 2009, coaches tried to write off his three false starts in one game by saying, "he's just really quick off the ball." Riiiiight. If you can look past his movement, you'll see that he is not a bad offensive lineman at all, and has created some big gaps for our assortment of running backs over the past three and a half years. In fact, I think Shugarts will make a decent NFL lineman in the future, if he can just take his gift(s) from Orlando Pace and wait until the ball is snapped to begin blocking people.
http://youtu.be/0bL5SWFxWm4
—————————————————
To: Carlos Hyde
From: Eddie George
Gift: Patience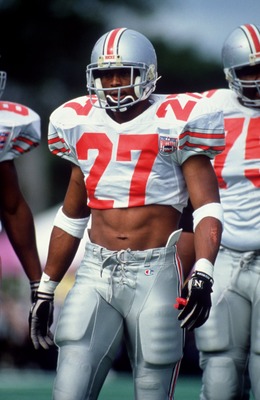 Most, if not all, of you are familiar with the Carlos Hyde tweets from immediately following the Illinois victory this year. If you're not, he basically came out and said that if he wasn't going to get to play here, then maybe he should go elsewhere. Many people were up in arms over this comment, saying that he should be removed from the team or that it would be a welcome idea amongst Buckeye fans for him to go ahead and leave. I, on the other hand, am of the impression that he's a young man who lost his cool and made a dumb decision to voice his thoughts to whoever happened to see them online. Should he have been celebrating a TEAM win instead of throwing himself a selfish pity party? Of course. But does that mean that we need to forget about him or toss him aside, absolutely not. For this reason, I think that Carlos could benefit from Eddie George's Christmas gift of patience.
The same player who was just honored at halftime of the Wisconsin game (a game in which Hyde received even less carries – zero – than at Illinois), George was once the goat of OSU football. He began his freshman campaign in Columbus by getting significant playing time and making the most of it. He had worked his way up the depth chart, and was gaining yards and scoring TDs, until two crucial fumbles against Illinois (which led to a 18-16 loss) seemingly derailed his career after his fifth game. He remained focused and worked hard in the gym, despite dropping to fifth on the team in carries as a freshman and not much higher as a sophomore, and earned his way to a starting role as a junior. From there, his legend grew and he eventually ran off with a Heisman trophy in his senior year and an NFL career that will hopefully land him in Canton, Ohio.
Carlos Hyde has shown significant promise and talent this year as a sophomore for the Scarlet and Gray. In fact, he is still the leading rusher on the team, has the most yards per carry, and owns the longest play from scrimmage this year. Unlike Eddie, Carlos really didn't do anything to lose his position, but Boom Herron has proven to be an emotional leader on this team, and his presence in the lineup has made the offense stronger. If Hyde can step back from the situation, calm his frustration, and take a look at famous Buckeyes like Eddie George who had to wait their turn to become greats, then he can improve in the meantime and go out next year with a mindset to prove that he is the best.
What gifts would you take from former Buckeye players and coaches to give to this team? Clock/game management from Tressel to Fickell? Hands of glue from Cris Carter to (fill in WR's name here)? A mid-90s playbook for Jim Bollman? Ted Ginn's speed to Reid Fragel…ok, that one's stretching it a bit, but find me on Twitter @AJBorland and let me know your gift ideas.
Tags: Carlos Hyde Christian Bryant Eddie George JB Shugarts Mike Sensibaugh Orlando Pace