I'm as happy as anyone to finally have the positive train running through Buckeye Nation again after Braxton's first start and an impressive win over a non-MAC school. However, we do need to keep in mind that we are typically the first to point at our rival schools when they get a bit carried away with their high hopes. We beat a mediocre at best team in Colorado, not Oklahoma. In other words, stay positive, keep the momentum, but keep everything in perspective. This Saturday in Ohio Stadium, the matchup against Michigan State marks the REAL litmus test for the men of the scarlet and gray. Don't get me wrong, the Buffaloes were a great warm-up game for B5, but Sparty is a solid conference team, and will give us an idea of where we stand this season. No pressure, huh…Ok, enough of that Debbie Downer crap.
It's time for Big Ten football, so let's meet our first opponents, the Michigan State Spartans…
Offense
How do you get a read on a team that has destroyed their weaker opponents by scores of 28-6, 44-0, and 45-7, and yet only put up 13 points against a less than stellar Notre Dame defense? Well, you start by taking a hard look at the main pieces of the offensive unit, beginning with their senior quarterback, Kirk Cousins. The 6'3", 205 lbs senior leader for the Spartans played in five games during his freshman campaign, won the starting position as a sophomore, and has had the role ever since…for better or for worse. If you have your heart set on a QB that will put your team on his back with Heisman-like numbers, then Cousins is not your guy. If you like consistency, however, then Kirk Cousins is the man for you. 2600 to 2900 yards passing, 20 TDs, 10 INTs, and a completion percentage at or around 65% is what you get per year, every year. He doesn't make too many costly mistakes, completes his passes when needed, and is a smart football player. He is also someone who, no doubt, wants revenge for the spanking that his Spartans received from OSU in 2008 (our last game against MSU) when TP, Beanie, and 5 turnovers helped earn a 45-7 victory for the Bucks. Side note, we only completed 7 passes in that game, if that makes anyone feel better…
Sparty is one of the few schools that you'll see utilizing a 4 RB attack, just 1 shy of what OSU will be unleashing on Nebraska when "Boom" returns. Edwin Baker (Junior, #4, 5'9", 210 lbs) and Le'Veon Bell (Sophomore, #24, 6'2", 237 lbs) will shoulder most of the backfield work as they have received 65% of the carries and 70% of the yards for running backs this season. Neither of them necessarily strike fear in opposing defenses, but Baker has some big play ability and Bell's size and speed make him a threat to wear down defenses with short-yardage and goalline successes. Larry Caper (Junior, #22, 5'11", 223 lbs) is more of a long-yardage/receiving threat than the previous two, and Nick Hill (Freshman, #20, 5'7", 180 lbs) is a quick back that may come in to change the pace, but will most likely get practice at bringing the other guys some water on Saturday.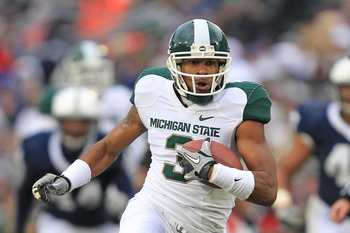 Westerville native and senior wide receiving star for the Spartans, BJ Cunningham (#3), is someone that OSU will have to account for on every play of this game. At 6'2" and 215 lbs, he's a big target for Cousins to hit, and he has the hands to do some damage to our secondary. He's big, dependable, a threat to break a momentum-changing play, and currently leads the Big Ten in receiving yards. After his first glance at Cunningham, Cousins will be looking for two more senior receiving options in Keshawn Martin (#82, 5'11", 182 lbs) and Keith Nichol (#7, 6'2", 220 lbs). They combine for 21 catches, 8 less than Cunningham has alone, but unless OSU's defense fixes the problem over the middle from last week, they could be viable downfield options. Note: Martin should be healthy and cleared to play, but he did leave their last game with a leg injury.
Possibly the biggest factor in Saturday's game will be the offensive line for Michigan State. OSU may be without Mike Adams on the O-Line, but Sparty has had plenty of issues with their hog-mollies as well. Dantonio's bunch up front is down three starters this season due to injury. Only one monster on their line has more than 15 starts (LG Joel Foreman), two just made their college debuts last week against Central Michigan, and another will only be making his third start. Head Coach Mark Dantonio, after an embarrassing loss to Notre Dame, has made a renewed commitment to the run game. With that said, if John Simon the rest of the D-line for OSU can get some push and hold strong, it may be enough to throw off Sparty's game plan and give Braxton some time to get out to an early lead…the best thing a freshman QB could ask for.
Defense / Special Teams
Any team coached by Mark Dantonio is going to have a solid defense, period. They may have some holes here and there, and may give up yards or points every once in a while, but you can bet that they will be a well-coached, well-prepared team that hustles to the ball on every play. This year's defense is no exception, as they are ranked 1st in the NCAA in yards against per game after their first four matchups.
The top four tacklers so far are LB Max Bullough (24), LB Denicos Allen (21), LB Chris Norman (18), and S Isaiah Lewis (17), so Sparty is clearly doing some things right. Sure, you'd like your defensive line to be making the stops, but this shows that their linebackers are all over the field making plays, and Lewis is able to step up and make plays as well. Denicos Allen leads the pack in tackles for loss with 5 already this year, so if anyone is likely to force Braxton out of the pocket or be in there to make a game-changing play, it could very well be Allen.
The Sparty defense is also opportunistic and will make teams pay for their mistakes. They have 6 interceptions to date, with a total of 122 return yards and 1 TD off of those picks. On top of that, they have also accumulated 5 sacks and 3 fumble recoveries in their first four games. All in all, this isn't groundbreaking information. Michigan State plays good defense, and although they lost All-American Linebacker Greg Jones, Max Bullough is filling his shoes very well so far this year.
Sparty's special teams have been decent so far this season, but nothing to write home and brag about. Their kicker, junior Dan Conroy, is perfect on extra points, but has missed two field goals, both of which were inside 30 yards. Freshman punter, Mike Sadler, is averaged just under 40 yards per punt, with three of them pinning their opponent inside of the 20 yard line. Nothing special. One last point, MSU's kick team has given up a TD on a kickoff return already this year, and if we learned anything from last season it's that a lapse in kick coverage can easily become a season-long issue (cue Jordan Hall – every Buckeye fan's favorite son of Jeanette, PA!).
10/1 OSU vs. MSU
Keys to the game for OSU: 1) Run the football. OSU needs the O-line to step up and be the talent that we know they can be. Create holes and let the running backs do the rest. 2) Get Braxton Miller out to an early lead to help build his confidence. Completing a few passes to WRs and TEs along the way would be nice too. 3) No big plays given up on defense. Bend (a little), but don't break. 4) Pressure Kirk Cousins all day long and give our DBs a chance to make a play. As I said before, he's a smart kid and a solid QB, but the one knock against him is that he can force throws when under pressure, and I wouldn't mind seeing Travis Howard or Christian Bryant end up with an INT or two. OSU 27 MSU 20
Go Bucks! Let me know your thoughts by leaving a comment or sending me something on Twitter
@AJBorland
Tags: BJ Cunningham Braxton Miller Edwin Baker Kirk Cousins Le'Veon Bell Max Bullough