 Football, football, football. As a central Ohio native, and diehard Buckeye fan, I realized, almost at birth, that football takes priority. We can root for basketball like our life depends on it, but only if there isn't an OSU football game taking place at the same time.
This same hierarchy doesn't just exist for OSU, but from youth leagues up through college. In Ohio, football is king. Well, let today's Big Ten Tournament be a reminder of one thing: Ohio is a pretty damn good basketball state, too. The top 3 scorers in the conference today all ended with 30 total points, and are all from the great state of Ohio.
Rob Wilson (Wisconsin)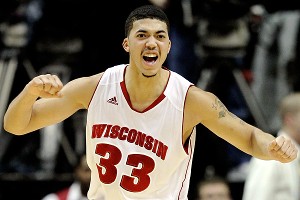 Cleveland, OH – Garfield Heights High School
The senior's 30-point explosion in Wisconsin's 79-71 win over Indiana in the quarterfinals of the Big Ten tournament, which included a 7-for-10 clip from the 3-point line, belied reason.

A fourth-year guard who'd never scored more than 13 points. A player who'd accrued 21 points combined in three previous games. A senior who's averaging 3.1 ppg this season played the role of Mr. Clutch for Wisconsin Friday and recorded a career-high.

"Every game, I feel like, can be a good game for me. Today was just one of those days," Wilson told ESPN.com.
Trey Burke (M*chigan)
Columbus, OH – Northland High School
Michigan's Trey Burke saw overtime as a new opportunity.After watching his teammates struggle in the first half, and the Wolverines nearly eliminated from Big Ten tournament play in the second half, the freshman guard took matters into his own hands.

Burke scored seven of his career-high 30 points in the final five minutes, including the last 3-pointer in a late flurry of long-range shots, to help Michigan (No. 13 ESPN/USA Today, No. 10 AP) rally for a 73-69 victory over Minnesota in the quarterfinals.
Jared Sullinger (Ohio State)
Columbus, OH – Northland High School
Jared Sullinger had a season-high 30 points and grabbed 12 rebounds to help No. 7 Ohio State beat Purdue 88-71 on Friday night in the Big Ten tournament quarterfinals.
Tags: Jared Sullinger Northland High School Ohio Basketball Rob Wilson Trey Burke